Olsen-Sottile Insurance Brokers Inc. is a family-owned and operated insurance brokerage that has been offering personal and commercial insurance in Niagara since 1980.
---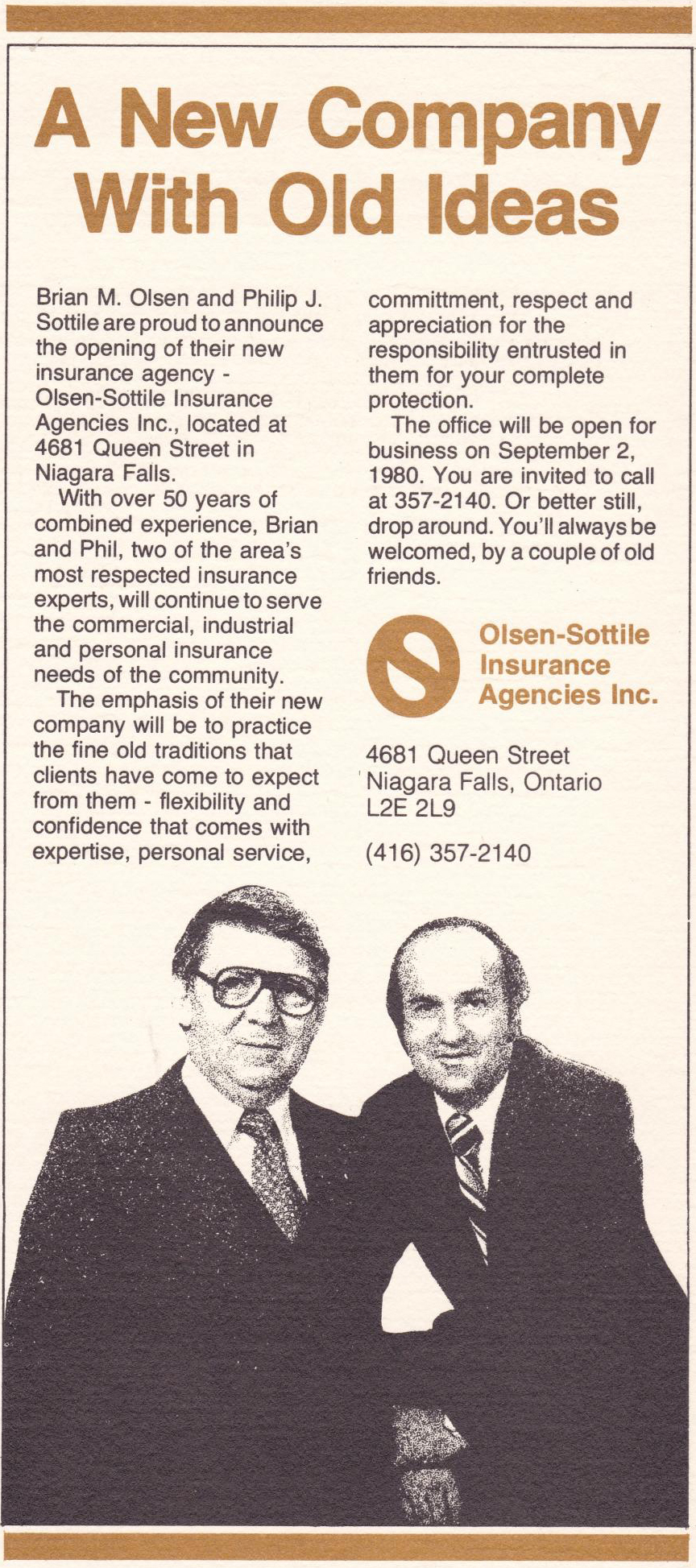 We are Niagara's Insurance broker!
Thirty years after founders Phil Sottile and Brian Olsen opened the door for business, our company continues to be a leader for personal, life and commercial insurance products in the Niagara Region with offices in Niagara Falls and St. Catharines. With Olsen-Sottle, your needs are our #1 concern... and we are committed to providing reliable and affordable service to our clients.
Founding partners committed to careers in insurance.
Phil Sottile started his insurance brokers career at the age of 19 in Sudbury, Ontario working at one of the oldest Insurance Agencies in all of Northern Ontario. He was well respected in the area and quickly became a part owner, working and building up the business for the next six years. During this time he married and had three sons. Needing a change and looking for another adventure, the Sottile family decided to move to the Niagara Region. While Phil had several lucrative offers, he ended up taking a position at R.C. Young's Insurance in Niagara Falls. He eventually became Vice-President at R.C. Young's Insurance, which then became Young's Insurance, then Young's – Graves, and then eventually bought out by Dale Insurance.
Brian Olsen was born and raised in Saskatoon, moving down to the Niagara Region as a young adult. He started working at R.C. Young's Insurance before Phil arrived in Niagara Falls.
In 1980, Phil and Brian decided it was the right time to open their own insurance brokerage to provide everyone in the Niagara Region with affordable auto, home and commercial insurance. They started working with a staff of three dedicated people.
Almost 35 years later... and still growing!
Today this firm now has offices located in Niagara Falls and St. Catharines with a staff of over 25 people. We are the largest writer of Hospitality Commercial Insurance in the area. Our specialty is also Contractors Insurance including Surety Bonding. We handle all lines of insurance including homeowners, auto and commercial lines. We also provide life insurance, travel insurance, health insurance and employee benefits.
Brian passed away in 2013, but will always be fondly remembered by everyone that worked with him. Phil is still very active in the everyday insurance business and his three son's have followed in his footsteps. Our offices in Niagara Falls and St. Catharines have many long standing dedicated employees, some that have been with us for over 20 years.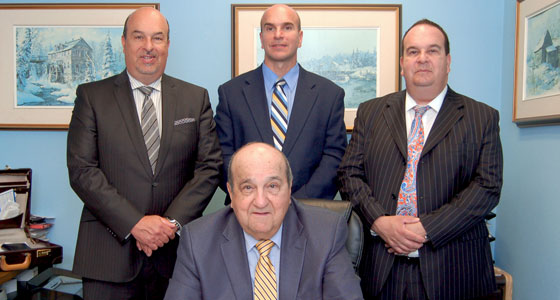 We have a long history in Niagara... and a long history with our clients.
We bring history, experience and knowledge to the table to service our clients. We live in the Niagara Region and work in the Niagara Region. Our clients are our neighbours, so it is important to us to take care of customers like we would family.
Most of our clients have been with us since day one, because of the reliable and affordable service we provide in the Niagara Region. We pride ourselves on personal service to all our clients. We always go the extra mile for our clients because there is nothing more important to us than serving the Niagara community; a community that we have always supported such as:
United Way
Project Share
Community Kitchen
Heart Niagara
Boys & Girls Club
GNGH Foundation
Arthritis Foundation
Terry Fox Foundation
Big Brothers & Big Sisters
Canadian Cancer Society
Chamber of Commerce
At Olsen-Sottile, we are constantly evolving and providing the latest training to our dedicated staff so that we can give our clients the best service possible!
---
Get a Free Quote Contact Our Niagara Falls Office Contact Our St. Catharines Office